(Reproduced from the school magazine Vol. 133.1965 with permission from Christchurch Boys High School 2005)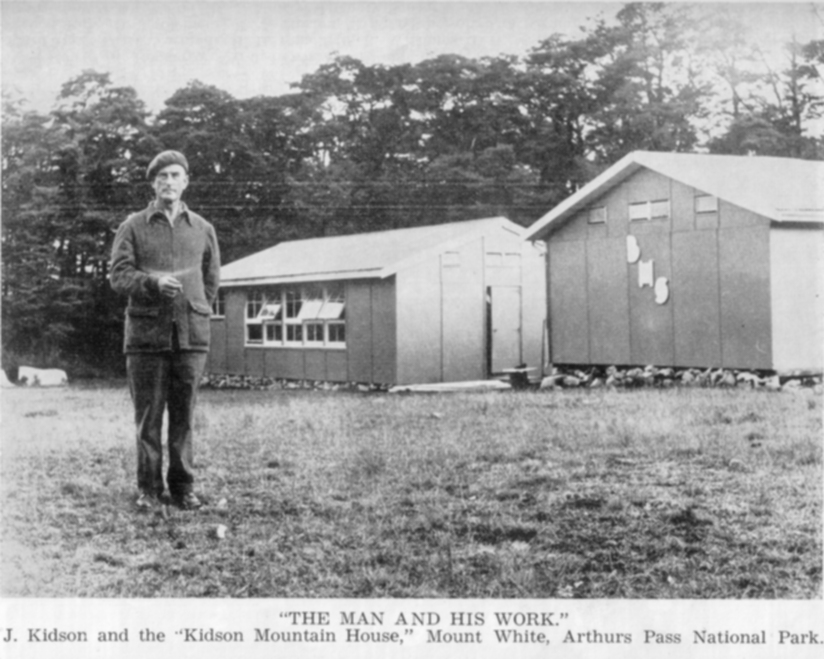 VALEDICTORY
MR J. 0. KIDSON
'Yet another master who has served the School for more than twenty years has reached retirement. This has been a sad feature of the School in recent years since each one seems to take some treasured portion of the School's history and tradition with him. These masters point to a stable past when the teacher who came to the School, became a part of it and was reluctant to leave it, even though avenues for higher promotion lay outside.
Mr Kidson has made an incomparable contribution to this school and it is with regret that staff and pupils, both present and past, wish both him and Mrs Kidson the very best for the future.
Educated at Nelson College, Mr Kidson went to the Training College and University in Christchurch where he graduated M.Sc. with Honours in Chemistry. He then taught at the Cashmere Primary School and the old West Christchurch District High School. From 1932 to 1943 he taught both day and night classes at the Christchurch Technical High School and during this period spent a year at the Institute of Education, University of London on a Carnegie Corporation Fellowship.
In 1944 he joined the Boys' High School staff as an assistant master and rose to positions of responsibility in General Science and later Chemistry. Although his principal teaching subject was Chemistry, Mr Kidson had built up an amazing knowledge embracing Woodwork, Engineering, Physics and Biology and this made him well qualified to become Head of Science at the School as successor to Mr Dyer in 1961. In this day of specialisation, men of this type are unfortunately a rarity, since to fill this post, a broad sense of vision is a prime requirement. Those of us who have served under Mr Kidson appreciate him for the measure of freedom he has given us, and whilst this delegation of authority has caused him to overspend his Science allowance with commendable regularity, it has contributed to both the interest and enthusiasm of master and pupil alike.
Mr. Kidson has been master in charge of the School Hostel since the time of Mr Leggat and in this time the roll has increased from fifty-nine to eighty-two whilst many new buildings have been erected. A large number of Old Boys are indebted to him for guidance and assistance and he will be remembered by them as a firm but fatherly adviser who sacrificed much of his own privacy to their welfare.
Like all masters at the School, Mr. Kidson has done his share of coaching Rugby and cricket but his greatest contributions to the School include the development of the School Workshop and the construction of the Mountain House.
The Workshop was originally intended as a small project to maintain and repair Science equipment. But like all Mr. Kidson's schemes it mushroomed, until, eventually, the School furniture was being repaired and microscopes and a large telescope were constructed. In it many boys have been taught the use of the lathe and welding plant as an extra curricular activity of the most valuable kind.
For many years Mr. Kidson, despite his many duties, nursed the idea that the School needed an educational and recreational hut in the mountains. This came to fruition in 1962 when the house, aptly named "Kidson House" was finally built in the Hawdon area. Many people, boys, masters, parents and Old Boys were involved in its construction but to Mr Kidson must go the credit for initiating enthusiasm and for doing many hours or organisation as well as physical labour on this scheme. A tribute to his power of persuasion is that over £800 worth of materials were literally scrounged by him from Old Boys and from firms with no School connections whatsoever. This project also expanded, with the addition of another hut to the mountain house and the development of gardens in the School grounds to display plants found in the Hawdon area.
Possibly as relaxation from teaching and hostel duties, Mr Kidson has always been a keen dry fly fisherman, and in recent years he took up golf. Both pastimes have led to wild staff room tales concerning the size of escaped fish and the narrowly missed bogey. A familiar School sight has been the Kidson van, loaded with clubs and hostels boys, leaving to do battle with the turf and trees of the Harewood golf course; in his case the word battle is used advisedly.
Always a creature of habit, one of his regular remarks as he rose from a staffroom chair was, "Look-out education, here I come". Whether the boys or the department were being given prior warning of some impending miscarriage of teaching has never been quite clear. Another remark on his more difficult days of "I am allergic to education" took less understanding.
The outside interests of Mr Kidson included his presidency and foundation membership of the Science Teachers' Association This organisation is a forum for the exchange of ideas between teachers of different schools and owes much to his untiring enthusiasm. The success of this body is evident in the subsequent establishment of similar organisations in English, Mathematics and other subjects
With two sons educated at School and since graduated, Mr. Kidson proposes to visit England again, to teach and travel before retiring to Nelson. Those of us who know him and wish him well are quite sure that Nelson is due for upheaval as a large amount of Kidson energy and enthusiasm still remain to be liberally dispersed.
J.A.